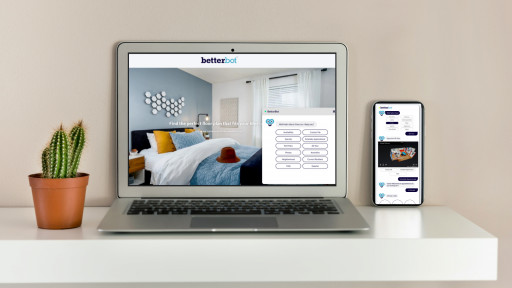 ATLANTA, February 10, 2023 (Newswire.com) - It took exactly four years and 265 property management companies to do it, but BetterBot has become one of the most adopted automated leasing assistants in the Multifamily Industry, serving more than 1.4 million rental units since 2019.
"We can certainly give some credit to good timing in the marketplace," said Zlatko Bogoevski, CEO and co-founder of BetterBot. "But at the end of the day, it always comes back to the product. BetterBot consistently outperforms any other solution in our space both in user experience and results, as well as the ease of which our product can be rolled out."
BetterBot officially began selling in the Multifamily marketplace Jan. 1, 2019. Adoption was accelerated due to an innovative interface carefully blending guided and AI conversation in order to deliver a low-friction experience that provides fast and correct answers in every interaction. BetterBot is a very competitive offering because it is easier to train, deploy and manage across a variety of rental property portfolios that can include conventional, student, senior, lease-up, and affordable units.
"Having been in Multifamily for 24 years, I've seen a lot of slick technology and cool solutions enter our marketplace," explained Robert Turnbull, BetterBot President, COO and Co-Founder. "The hardest part isn't necessarily getting to the Innovators and then the Early Adopters with a new tech product, but it's the Early Majority adoption that truly creates separation. This is where we are with BetterBot today."
In addition to their initial ChatSkill that can be deployed anywhere online, Betterbot launched their NurtureSkill with direct integrations into all of Multifamily major Internet listing sites. BetterBot started by building digital assistants automating multifamily leasing operations and is actively adding automation skills and features for property managers and owners.
# # #
About BetterBot: BetterBot is the leading multifamily digital leasing assistant that automates tasks allowing multifamily owners and managers to operate 24/7/365 while reducing the cost of operations.
Contact Information:
Tiffany De Alva
VP of Marketing
[email protected]
Original Source:
BetterBot Reaches 1.4 Million Units Served
The post BetterBot Reaches 1.4 Million Units Served first appeared on TREND MAG.
Real Estate - 195News originally published at Real Estate - 195News