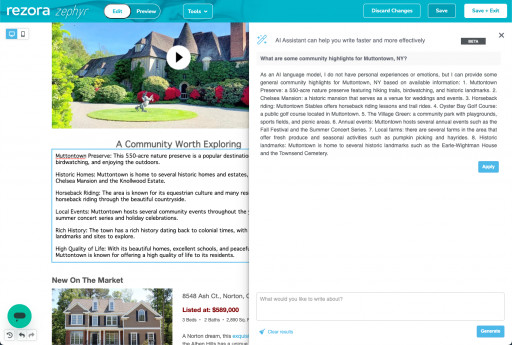 Transforming Real Estate Email Marketing: rezora & ChatGPT Integration in Action
An example of the seamless collaboration between rezora and ChatGPT, revolutionizing real estate email marketing.
BOULDER, Colo., April 13, 2023 (Newswire.com) - rezora, a leading provider of cutting-edge email marketing software tailored for real estate agents and brokerages, is thrilled to announce the launch of its integration with ChatGPT, a state-of-the-art artificial intelligence language model developed by OpenAI. This groundbreaking collaboration aims to revolutionize the real estate email marketing landscape by offering a seamless, intelligent, and cost-effective way for agents and brokerages to create high-quality content that drives engagement and delivers results.
As part of this initial release, rezora users can leverage ChatGPT's advanced natural language processing capabilities to optimize their email marketing campaigns, creating more targeted and compelling content for their property listings and personal branding efforts. The integration is designed to help real estate professionals save time and resources, improve open rates, click-through rates, and overall engagement, all while enhancing the effectiveness of their marketing efforts.
Key features and benefits of the rezora-ChatGPT integration for real estate agents and brokerages include:
Property Listing Optimization: Utilize ChatGPT's AI-powered language capabilities to automatically generate or refine listing descriptions, headlines, and email copy, optimizing messaging for maximum impact and attracting potential buyers.
Personalization at Scale: Create highly personalized and relevant email campaigns for diverse audiences, using ChatGPT to generate tailored messaging based on client segmentation, preferences, and property interests.
Dynamic Content Creation: Experiment with new content ideas and formats for property listings, agent bios, and neighborhood guides, all powered by the AI-driven insights of ChatGPT.
Continuous Improvement: Leverage the power of AI to analyze campaign performance and offer data-driven recommendations, ensuring real estate email marketing strategies evolve and adapt in real time.
As part of this beta launch, rezora is offering the ChatGPT integration at no additional cost to its users. The company is committed to expanding and refining the integration based on user feedback and real-world performance data, ensuring a consistently exceptional experience for all customers in the real estate industry.
rezora has long been a pioneer in the real estate email marketing space, and this integration with ChatGPT solidifies its position as an innovative force. By harnessing the power of AI to enhance and streamline email marketing for real estate professionals, rezora is delivering an unparalleled solution that will enable agents and brokerages to drive results, foster deeper client relationships, and achieve their marketing goals more efficiently.
For more information about rezora's email marketing platform and the new ChatGPT integration for real estate agents and brokerages, visit www.rezora.com.
About rezora
rezora is a leading email marketing software provider, offering a powerful and user-friendly platform designed to streamline and optimize email marketing campaigns for real estate agents and brokerages. With a focus on efficiency, personalization, and analytics, rezora empowers real estate professionals to create, deliver, and track highly targeted email campaigns that drive engagement and results. For more information, visit www.rezora.com.
About OpenAI
OpenAI is a research organization dedicated to developing and promoting friendly AI for the benefit of all of humanity. Its flagship language model, ChatGPT, is designed to understand and generate human-like text, making it a powerful tool for a wide range of applications, including content creation, customer support, and more. To learn more about OpenAI and ChatGPT, visit www.openai.com.
Contact Information:
Paul Reinarz
CEO
[email protected]
303-800-8840
Original Source:
rezora Announces Exciting Integration With ChatGPT by OpenAI to Revolutionize Real Estate Email Marketing
The post rezora Announces Exciting Integration With ChatGPT by OpenAI to Revolutionize Real Estate Email Marketing first appeared on TREND MAG.
Real Estate - TREND MAG originally published at Real Estate - TREND MAG